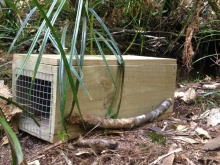 Tiakina Whangārei is working hard to keep pests out of Whangārei city, encouraging residents to get involved in backyard trapping, and targeting specific areas such as waterways, which research has shown are corridors from our beautiful city out to the coast.
There are so many community pest control groups in Whangārei that contribute to our collective goal of becoming a predator free city.
In this blog, we thought we'd highlight some of the awesome mahi being done in the wider Whangārei area. The Piroa-Brynderwyn Landcare (PBL) Pest and Weed Control Working Groups is one group that has been making massive conservation gains with their pest control out on the coast.
They have been increasing their intensive pest control and consequently, they are seeing positive results for native forests and wildlife over a 25,000-hectare area covering Bream Tail, Waipu Cove and Marunui.
In several new locations in 2021, kiwi have been spotted, as well as other rare species like Hochstetter's frogs, kākā and koromiko/bellbird. Species that are more common (such as ruru/morepork) are also reaping the benefits of the consistent and persistent pest control that the group is doing. There was a recorded ruru/morepork nest that has recently successfully hatched two fledglings!
Around mid-November last year, a ruru was noticed protecting its nest with two eggs. The track was then closed off to avoid anyone disturbing the ruru and a camera was set up. In early December, the camera caught sight of a possum climbing up to have a look at the freshly hatched ruru chicks. Traps were quickly set up around the nest and the possum was caught at the base of the stump.
Piroa-Brynderwyn Landcare has been operating as a semi-formal group over the past four years and with volunteer numbers growing with more motivated members they were able to move from pest control and trapping to focus on other conservation issues, like pest plant control, education and larger biodiversity. With impressive results out on the coast, Piroa-Brynderwyns Landcare is going a step further and are setting up the Piroa Conservation Trust (PCT), which has a strong purpose to work in partnership with iwi/hapū. The vision for PCT is Te Ao Turoa: Nature-People Flourishing Together – Ki Uta ki Tai from the hills to the sea.
This awesome mahi in areas surrounding urban Whangārei, even as far away as the Brynderwyns, is ultimately supporting our shared vision to reduce predators and build safe corridors to protect our native flora and fauna, and help them flourish again. Here at Tiakina Whangārei, we feel privileged to be part of this wider collective of hard-working passionate people!
For more info on what's happening on the coast click here
To read the full article from Kiwi Coast click here