The best conservation results happen when local communities are empowered and Pest Free Kamo is one such success story.
Te Kamo's residents are lucky to have multiple pockets of beautiful native bush scattered throughout the area. These native pockets of flora are home to native bird and insect species and need the support of conservationists to keep them weed and predator-free.
Heather Pomfrett, a long-time Te Kamo local with a passion for conservation, joined the Pest Free Kamo volunteer group after attending a Tiakina Whangārei workshop earlier this year. The workshop aimed to equip Te Kamo residents with all of the skills needed to tackle pest management, as part of its wider objective to equip local communities with the resources and knowledge to take predator control into their own hands.
Since attending the workshop, Heather helped establish the Pest Free Kamo volunteer group, along with six other dedicated volunteers. Their vision is to make Pest Free Kamo intergenerational, providing an ongoing guardianship to native birds, flora and insects, and connecting neighbourhoods with nature.
Heather says the group has successfully ring-fenced the Fairway Drive and Granfield Reserve native bush areas with 10 possum traps and 10 rat bait stations. Since April, this has resulted in the removal of 28 possums from the area!
Every catch is recorded on TrapNZ, a national website, so all the data and results from the group can be seen over time. You can view the Predator Free Kamo project on Trap.nz here.
"One strategically placed trap can have an effect on predator control for a wider area than you might think," she says. "A single possum trap along the ridgeline of the Recreation Reserve Bush Kamo effectively prevents possums from moving over the ridge and repopulating other monitored bush areas."
Heather tells us that she is "hopeful that this consistent effort will save our existing pair of kūkupa, piwakawaka, ruru, and riroriro." She has already noticed the odd bush weta returning.
What's next for Pest Free Kamo?
Now the ongoing war is with weeds, and you can help! If you own a property on the boundary of these reserves, the Pest Free Kamo group is encouraging residents to venture in and pull a few weeds out.
"We're targeting species such as wild ginger, asparagus fern, queen of the night, woolly nightshade, tuber ladder fern, bangalow palm, Taiwan cherry and wandering dew. Once you've pulled them out, you can hang the weeds up in a tree to die, which helps stop the roots or stems from resprouting."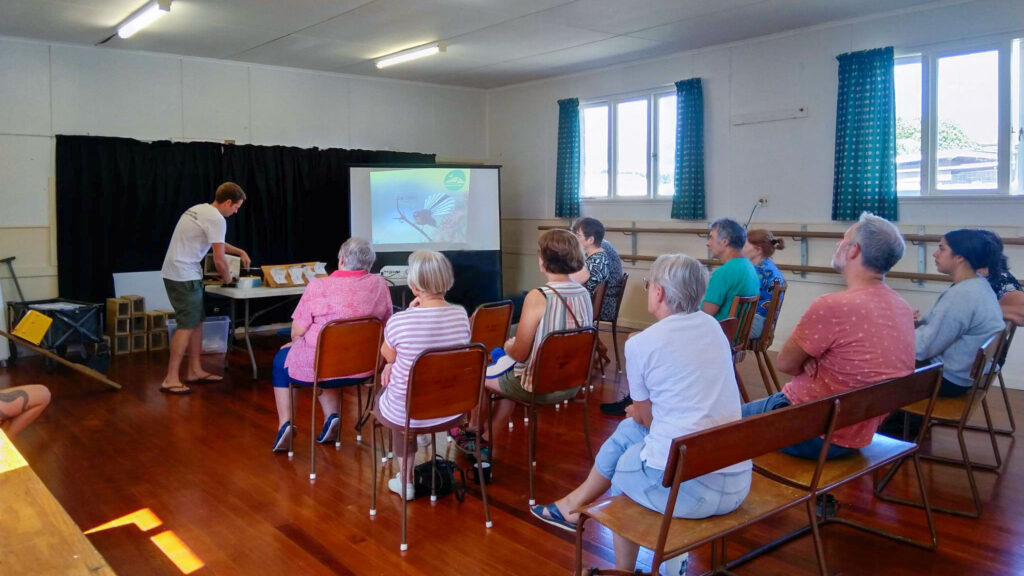 If you want to help with weeding, keep an eye on the Tiakina Whangārei Facebook page. We'll be sharing tips on recognising and removing these weed species in upcoming posts.
For those of you who are interested in setting up trapping lines in the Recreation Reserve area, Pest Free Kamo volunteers are happy to provide help and guidance for the initial setup.
Contact Dai Morgan at Tiakina Whangārei at info@tiakinawhangarei.co.nz for more information.
Check out our Get Involved page for more ideas on how you can support Predator Free efforts.
Thank you Heather and the Kamo Predator Free volunteers for your hard mahi over the past few months.