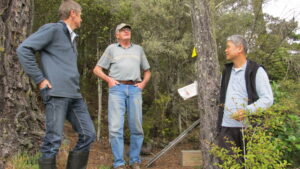 Predator control is a great way to get to know your neighbours, as well as bringing back the birds, according to Chris Jenkins, John Ward and Roland Chiu. The trio all live on Whareora Road and have quietly been working away over the last two years to clear the Parihaka Reserve behind their properties, of rats and possums.
John had initially joined a group that trap the southern (city) side of Parihaka, where they were checking the traps in pairs. "I thought, why don't we spread our resources further and start trapping on the north side too."
He put the word out to his neighbours and was joined by Jack Craw, Chris Jenkins and Roland Chiu. They worked with Tiakina Whangarei's Dai Morgan to establish two trapping lines through the reserve and the group now take turns getting their weekly exercise by checking and clearing the 40 rat traps and 20 possum traps.
Chris says predator control is so much more enjoyable as part of a bigger community project. "When I was just trapping my place, I used to feel like I was standing at the beach trying to stop the tide, but to go and trap a wider area and to do it as a collective effort is much more rewarding because we are dealing with pests over a larger area. The benefit of trapping a larger area is beginning to show in our data, which shows a steady decline of possums caught over two years and this matches our observations of the possums caught, heard and seen in our backyards."
The Parihaka project now involves trapping on the north and south sides of the reserves, with the Kohi Street Kindergarten even involved in helping to decorate the trap boxes.
John says all their neighbours have been very supportive of their efforts. "We made sure to talk to everyone about what we were doing, especially for those families with young children. Everyone has been really positive."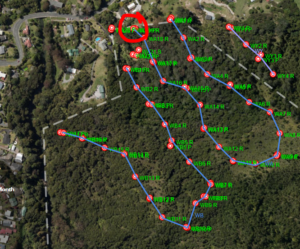 There's a roster set up on Google Drive, and all their efforts are recorded into TrapNZ. To date, the group has trapped 243 rats, 63 possums and 11 mice.
After just two years, their efforts are already paying off, with John seeing tomtits in the area for the first time in 40 years. Chris has also noticed plenty of positive change. "We're starting to see lots of signs that biodiversity is improving, with flocks of quails and pheasants, kauri snails, insects and green geckos all becoming more common."
Roland arrived in New Zealand 11 years ago, and was delighted when John asked him to join the project as it's given him and his family an opportunity to get to know their neighbours and get involved with the local community. "I wanted to become part of the local community because I want to become a 'Kiwi'. It's made me very happy to do volunteer work and get to know my neighbours."
Roland has also been volunteering at Matakohe Limestone Island to protect the petrel nests. He enjoys discovering new and interesting plants when he checks the traps and has also enjoyed the noticeable increase in bird song. "While I'm checking the traps, I can hear many different beautiful bird songs; it's so enjoyable."
John says the group has gone from being neighbours to good friends through the project. "I've been trapping my place for years but it's great to be part of a bigger project across Parihaka – it really is a wonderful community project."
Chris is quietly optimistic about what can be achieved, with perseverance, and continued community support. "My secret hope is for all birds and insects to increase in numbers, but also the foliage of our beautiful native trees, like pohutukawa and taraire, which can be badly damaged by possums. The great news is we can already see these changes happening."
Photos show (from left) Chris Jenkins, John Ward and Roland Chiu at WA 19 trap station, and the trap lines of the group.
For anyone interested in getting involved, you can contact John on 094370946.