Living surrounded by the beautiful native bush on Parihaka, Vicki Hollings has a passion for protecting the native birds in her backyard.
Vicki and her husband, Trevor, have been members of the Parihaka Community Landcare Group since its inception in 2016 and have already noticed an increase in native birdsong around the area. "The data speaks for itself – there has been a decrease in possums and rats in the area. For me, it's the realisation that I can actually make a visible difference and seeing the statistics has reinforced that.
"My passion is our native birds, helping them to thrive and being able to hear an increase in birdsong around my house; seeing more and more native birds keeps me motivated."
After working as a pharmacist for 43 years, Vicki is now retired and takes great delight in spending her time outdoors. "There are so many reasons why I joined the Parihaka Community Landcare Group, but mostly it was because I wanted to use my voluntary time to do something to help our native bush – the bush is my happy place. I take a girlfriend with me and we walk and chat and check the traps, it's a great catch up!"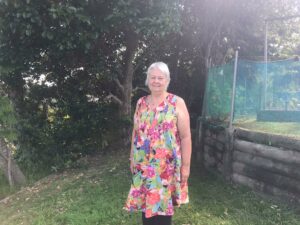 Image: Vicki Hollings at her Parihaka property
New Zealand becoming predator free by 2050 fits in with Vicki's retirement philosophy. "It means we can leave something special behind for our future generations. If we want to achieve this goal as a nation, government funding and taxpayer money cannot get us there – we've got to use our own leisure time and manpower to get there!"
The Parihaka Community Landcare Group meets once a month and undertakes rat, possum and mustelid management over 100 hectares of the Parihaka reserve, a quarter of the total reserve area. "It's really nice meeting up with everyone in the group, they're an interesting group of people from different walks of life, from teenagers and tertiary students to professional workers and retired people like myself. We've all got a collective passion and a common interest and I enjoy that.
"There's this community feeling that comes with being involved in this group, and we have so many people that contribute in their own way. Some of the traps we use were made by the Waipu Men's Shed and then painted and decorated by various local kindergarten children – it's just about being involved and spreading awareness of what we are trying to achieve."
Tiakina Whangārei and the Parihaka Community Landcare Group share a common purpose to care for the native bush in our city. "With so many passionate people contributing to conservation projects around Whangarei – and this constantly growing – it's motivating to know that there is so much we can achieve in our lifetime.
"We're so spoiled with the native bush around the city of Whangārei – let's get out and enjoy it! Come and join us, it's a great way to exercise with purpose!"