Claire Pearson and her husband Mark have been the owner-operators of Bream Head Coast Walks since its inception in 2008. "We offer two or three-day packages that include walking, accommodation, transport and food. Since 2008, we've hosted thousands of walkers from all around New Zealand and in previous years, all around the world.
"My favourite walk in Whangārei that I constantly get to see through "fresh eyes" – and one that is certainly a favourite of many of our guests too – would be the Smugglers Bay loop located at the end of Urquhart Bay, Whangārei Heads, a 35-minute scenic drive from Whangārei city.
"The scenery and views are varied and spectacular! I always walk this in the same direction (not really sure why as the other direction is stunning too!) – leaving Urquhart Bay and heading in an anti-clockwise direction.
A slight rise behind Woolshed Bay will give you views back across the harbour to Mount Manaia and Aubrey and behind you to Mt Lion and Bream Head.
Across the harbour is the contrasting view of the Marsden Point oil refinery and Northport.
There are always lots of boats in the harbour, from container ships and tankers to yachts and dinghies.
There is usually young Angus beef cattle in these paddocks who are very friendly and used to people, so many of them like a pat and scratch!
The remains of WWII gun emplacements and associated support buildings above Home Point are worth a stop and there are information boards to read.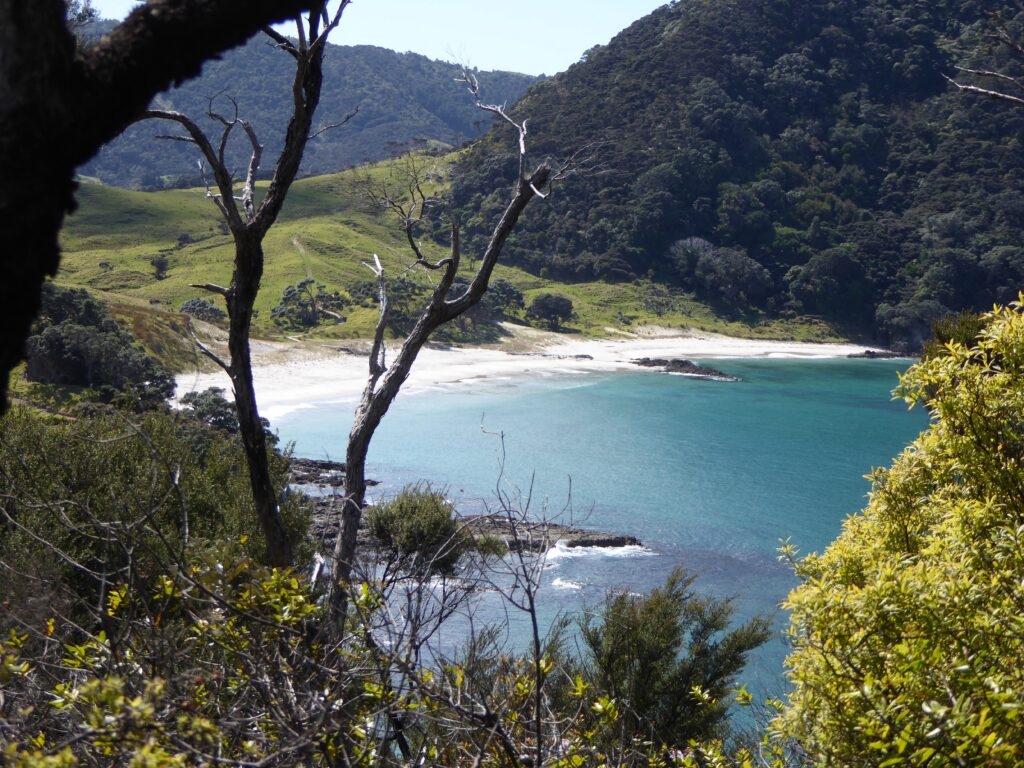 There has been restoration planting in this area over many years by the Bream Head Conservation Trust.
There's a bit of a hill next and then down towards Busby Point and the Frenchman you will find even more spectacular views into Bream Bay.
If you go to the end of Busby Point, it feels like you are in the middle of the harbour as fishermen clamber down the last part to fish off the rocks.
The views coming into Smugglers Bay from this direction are quintessentially Northland – very clear water, white sand, gentle waves and stunning pohutukawa trees lining the beach. From here it's about 15 minutes back to the carpark.
"This walk is suitable for most fitness levels. It's not completely flat but the track is mostly well maintained with steps where appropriate. The area from Urquhart Bay to the gun emplacement can be wet and boggy in the winter, so don't wear your best white sneakers!
Duration: Approximately 1.5 hours
Difficulty: Easy to moderate
Taking kids? No problem. This walk is part of the Toyota Guardian Trail so you can download directions, find the keyword, send it in and receive a prize.
Whangārei becoming a predator free city will help restore the natural beauty of our place, the place that my ancestors both Māori and Pākehā loved. By empowering people to make a start in their own backyards by trapping, it helps them believe they can make a difference and become part of a bigger plan.