The Whangārei Men's Shed has been hard at work making custom-built rat trap boxes for Tiakina Whangārei for the past two years and has now started selling Rat Trap Starter Packs from their central Whangārei location.
Tiakina Whangārei Coordinator, Dai Morgan, says this initiative was due to the high demand for rat traps within the city. "Having a central place for the community to easily access and purchase traps is essential as more people are aware of the importance of having a trap in their backyard. We are already looking at more places that will sell traps as the demand increases. This project is community-led so it's really positive that the community is driving this."
John Fraser, Project Supervisor for the Whangārei Men's Shed, says the initial reaction from the community has been overwhelmingly positive. "It didn't take long for word to spread that we were selling them, and it was within mere hours that we sold our first pack!"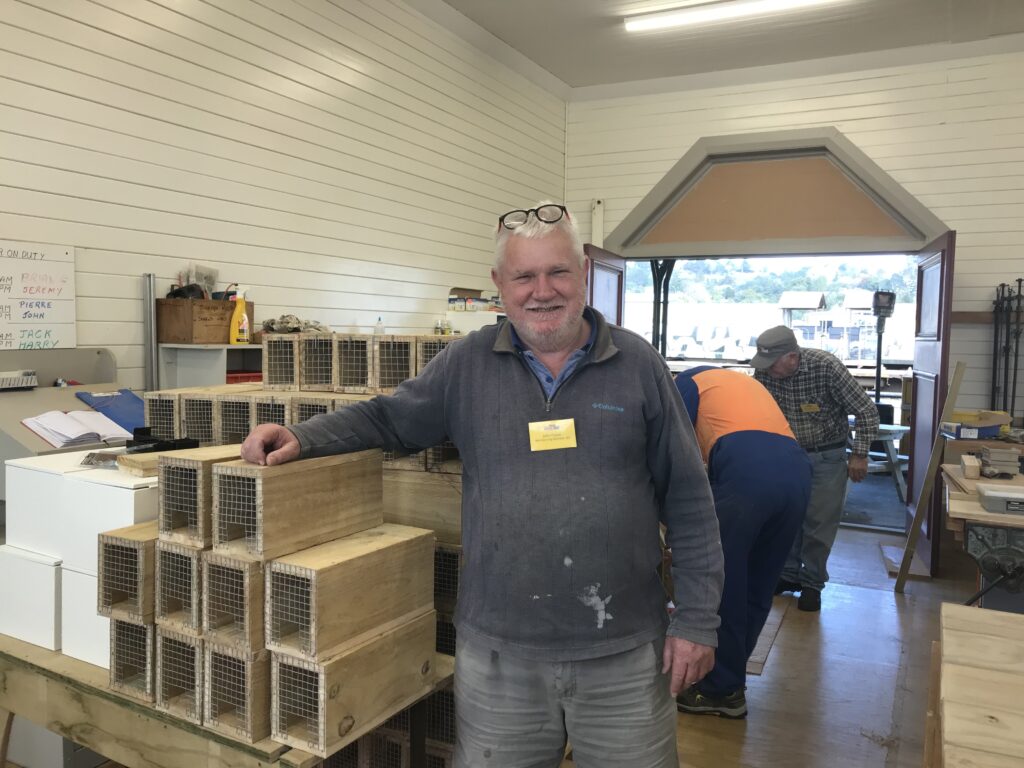 John has a personal passion for native birds and trees and was very pleased to be involved in helping our city become predator free. He says he's planted over 200 native plants in his own quarter-acre property in Kamo and has hundreds of birds that visit the property daily.
"This is what The Men's Shed wants to be focusing on," says John. "Something that improves our city's chances of becoming predator free by 2050 and enabling our native wildlife to thrive in our own backyard. It could happen – we just need more people passionate enough to be involved. There's a range of activities people could be getting involved in and some really great people to meet.
"There are many businesses around the Whangārei CBD, especially around the Hatea River that could really make a difference. My personal mission is to get in contact with them and let them know how they could help."
The Men's Shed is a community-driven organisation that promotes men's mental health. They build various things in their workshop – from restoring furniture to repairing windows to predator traps! They were recently awarded the prestigious New Zealand Railway Heritage Trust Restoration Award for 2021 for their renovation of the Old Railway Station over the last three years.
But the group is more than building in the workshop, says John. "It's all about men's mental health, developing friendships, supporting each other and looking after each other's wellbeing. Our measure of success is how many cups of tea we make in a day. We know if we're making lots of tea, the men are sitting down, chatting and laughing with each other – and that's the key thing!"
The Whangārei Men's Shed is located at the Old Whangārei Railway Station on Railway Road. You can pick up your Tiakina Rat Trap Starter Packs on Monday, Wednesday and Thursday from 10am to 2pm, accepting only cash.
Half of the proceeds from the sale of the Tiakina Rat Trap Starter Packs are given to the Tiakina Whangarei project, and the other half is given to the Whangārei Men's Shed to fund their various charity and community projects.